Tunisia Makes First Arrests After Beach Massacre
http://www.africaeagle.com/2015/06/tunisia-makes-first-arrests-after-beach.html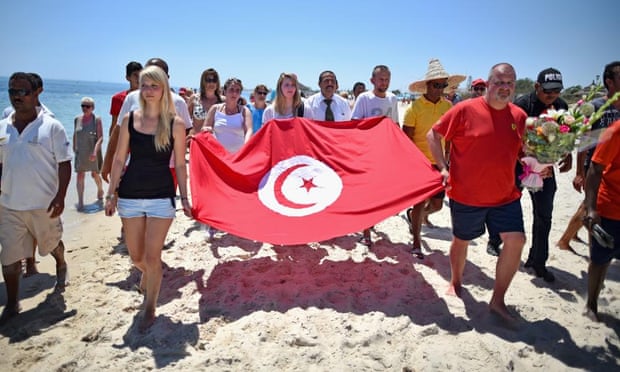 Tunisia has made its first arrests after a beach massacre that killed 38 people, as European officials paid tribute to victims of last week's massacre at a tourist resort in the city of Sousse.
Interior Minister Najem Gharsalli said on Monday that the authorities had arrested
"a significant number of people from the network that was behind this terrorist criminal."
He warned that
"anyone who provided any logistical or financial assistance"
to the attacker, identified as 23-year-old student Seifeddine Rezgui, would be arrested.
"I promise the victims… that these criminal killers will be brought before Tunisian justice so they are justly punished,"
he added.
British Home Secretary Theresa May, visiting the scene of Friday's gun assault, vowed that "the terrorists will not win" after London warned that Britain's death toll could rise to "around 30″.
She and her Tunisian, German and French counterparts laid a wreath at the beach to honour the victims.
Pledging to
"defeat those who undermine our freedom and democracy"
, May said there was no evidence to suggest the Britons were targeted because of their nationality.
US President Barack Obama also offered condolences to the Tunisian leader and extended US assistance to the investigation into the deadly attack.
In a telephone conversation with his Tunisian counterpart, Beji Caid Essebsi, the US president pledged additional cooperation with the north African nation, the White House said.
Tunisian Prime Minister Habib Essid said Rezgui had been
"mainly radicalised online"
but added that it was unclear if he had been to neighbouring Libya