Kenya's Sumgong wins Olympic marathon
http://www.africaeagle.com/2016/08/kenyas-sumgong-wins-olympic-marathon.html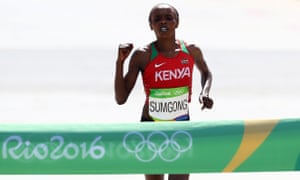 Kenya's Jemima Sumgong won gold in the women's marathon on Sunday in 2hr 24min 4sec to become the first Kenyan woman to take the title. Bahrain's Eunice Jepkirui Kirwa claimed silver while Ethiopian Mare Dibaba took the bronze.
Sumgong, who won this year's London Marathon, bided her time throughout the race, staying with the leading pack and opting not to move into the lead until the final stages.
The Belarusian Volha Mazuronak, 27, shook up the pack halfway through the race, taking the lead and briefly pulling ahead of the lead group. The move pushed the pace, stringing out what had been a lead pack of more than two dozen runners, with several falling off the back.
It was the first in a series of attacks by the first-time Olympian, who was ultimately unable to sustain the pace and was dropped by the leaders in the closing stages before finishing fifth, one second behind Ethiopia's Tirfi Tsegaye in fourth.