Uganda President, Yoweri Museveni Dresses as Farmer, Fetches Water on Bicycle [PHOTOS]
http://www.africaeagle.com/2016/11/uganda-president-yoweri-museveni.html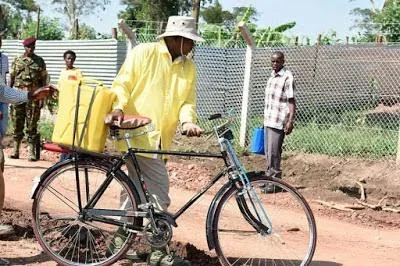 Uganda's President, Yoweri Kaguta Museveni, was seen fetching water, and riding on a bicycle on Monday morning to the shock of villagers of Kawumu, Luweero District.
According to a post on Facebook, he said the action was to create awareness on his 'Operation Wealth Creation' agenda of drip irrigation for crops.
Museveni, who shared the pictures on his Facebook wall, wrote: "Today is Day Three of my Operation Wealth Creation drive in Luweero.
"This morning, I fetched water on my bicycle to demonstrate drip irrigation for coffee and bananas that I have planted on the 24 acres of land recently acquired by government in Kawumu Village, Luweero District.
"I will continue with my door-to-door mobilisation and sensitization on Operation Wealth Creation."
SEE PHOTOS: