How Gambia Goalkeeper Died In Mediterranean Sea While Travelling To Europe
http://www.africaeagle.com/2016/11/how-gambia-goalkeeper-died-in.html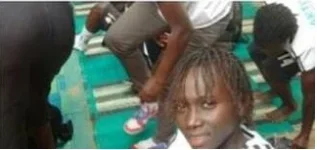 The Gambian national women's soccer team goalkeeper has drowned in the Mediterranean Sea while attempting to reach Europe's shores by boat.
Fatim Jawara, 19, was trying to reach Italy last month when her boat got into difficulties in the Mediterranean after leaving Libya.
Jawara first played for the Gambian side last year, following a stint on the junior team. In 2012, she was part of the national squad to play at the under-17 World Cup in Azerbaijan. She also played for the Red Scorpions F.C., a local club based just outside the capital city Banjul.
The news of her death was broken by Gambia's football association, which called the way she died "shocking" in a Facebook post. Her family later confirmed the news.
"Fati was a player who can play anywhere on the field. I'm really sad about this because she fought so much to be number one," Chorro Mbega, the Red Scorpions' coach, told the BBC.
She is one of 7,000 Gambian migrants who have fled the small west African country this year. But 2016 has become the deadliest on record for migrants and refugees making the crossing to Europe, according to numbers from the U.N. High Commission for Refugees.
Two shipwrecks off the Libyan coast this week brought the death toll to 4,220, reports the Associated Press.